WELCOME TO NOVOTEL SYDNEY ON DARLING HARBOUR
Your playground awaits, your staycation starts here!
Situated in the heart of Darling Harbour, Novotel Sydney Darling Harbour is an ideal location for visitors. It's a mere 20-minute drive from Sydney Airport and adjacent to the ICC Sydney, making it a convenient choice for travelers. The hotel's proximity to key attractions, shopping, dining, and the Sydney CBD adds to its appeal.
Choose from 525 stylish resort rooms, including 16 suites at Novotel Sydney Darling Harbour. The rooms offer a restful and comfortable feel, featuring luxury bedding, high-speed Wi-Fi, and 48-inch SMART TVs with Google Chromecast. Select rooms boast impressive views across Darling Harbour or the Sydney city skyline, along with plush working and dining areas.
The Ternary, located within the Novotel Sydney on Darling Harbour, ranks among the top 10 restaurants in Sydney on TripAdvisor. It offers an inviting, social atmosphere with stunning views of the Sydney skyline. The Ternary is celebrated for its fresh, seasonal, and sustainable produce, focusing on texture and flavor balance to create an unforgettable culinary experience.
Novotel Sydney Darling Harbour is not just a hotel but also a premier venue for meetings and events. It offers unique event spaces for residential and cocktail events, equipped with natural light, the latest A/V equipment, and high-speed Wi-Fi. The hotel's commitment to providing excellent service is evident in the glowing testimonials from guests who have hosted events here.
Novotel Sydney Darling Harbour stands out with its outstanding amenities, exceptional dining, and premier event spaces. Whether you're planning a staycation, a business trip, or a special event, consider Novotel Sydney Darling Harbour for an experience that combines affordable luxury, convenience, and exceptional service.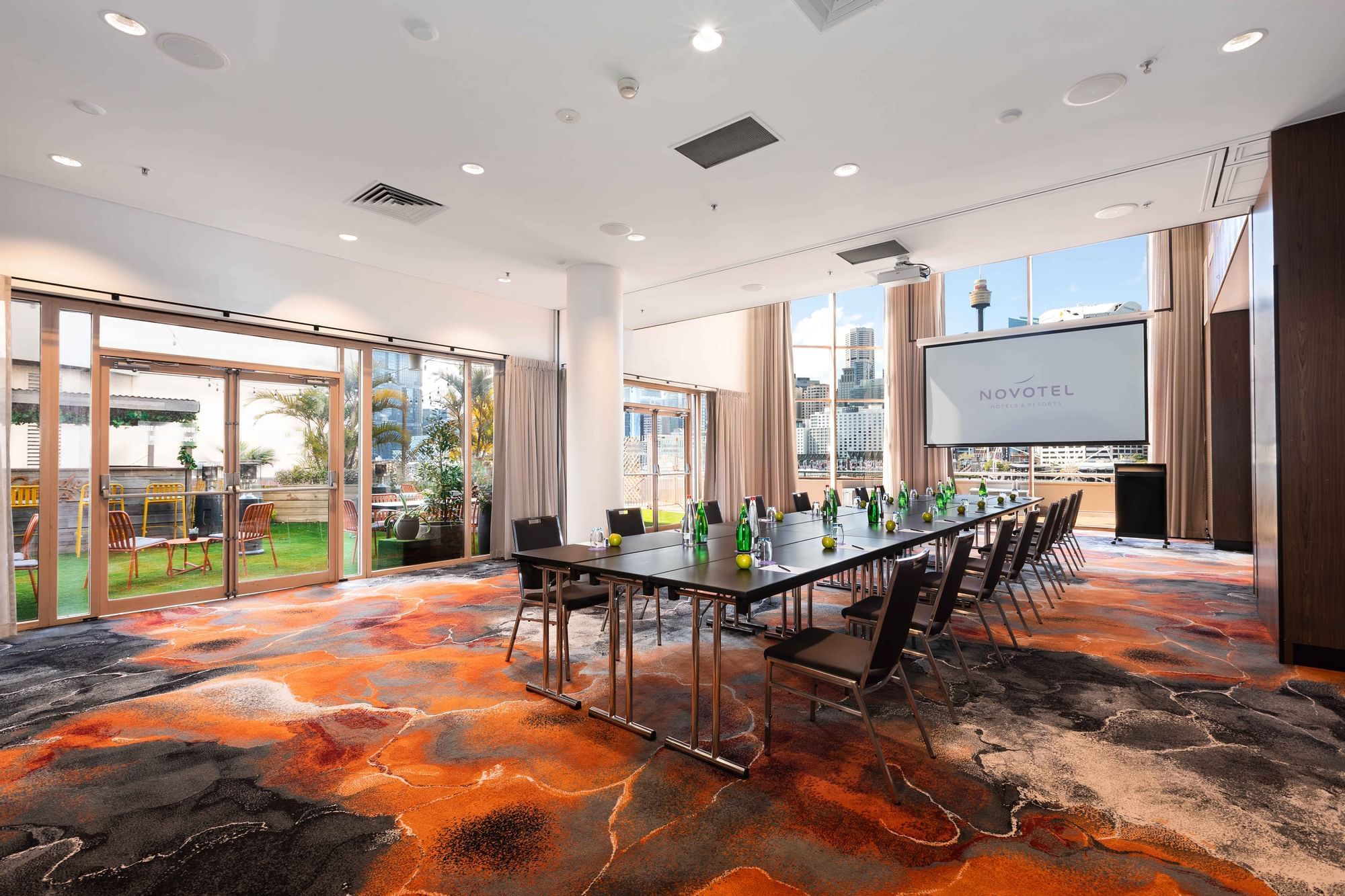 MEETINGS & EVENTS AT NOVOTEL SYDNEY ON DARLING HARBOUR
Excellent overall experience. Great communication in the lead up to our event, which continued once we arrived onsite, and through-out the duration of our event. Well done to all the team!
Our friends and family absolutely loved the whole event and most importantly, so did we. You guys crushed it, food, drinks, the setup was all perfect and the entire Novotel Family did a fantastic job. Thank you so much for making our day just that little bit more special.
Alan, John and the team were amazing. They were incredibly organized, and any request was met with enthusiasm and a prompt response.
Booking with Novotel is never a hassle. Staff are always polite, accommodating and extremely professional during all interactions. Our conferences have always run so smoothly with Novotel.
Address
100 Murray Street, Darling Harbour, NSW 2000, Australia